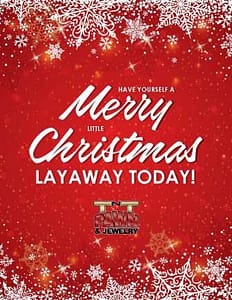 The holidays will be here before you know it, which means we at TNT Pawn have officially entered Layaway Season!
If you have your eye on that special something for you or a loved one but can't afford it all at once, don't worry. You can make easy monthly payments during our holiday layaway program and have it in time for Christmas!
You will pick up your items at our after-hours Customer Appreciation Sales Event (CASE). Check back here for the date and time.
We have great payment terms on all our high quality items during our Layaway Now for Christmas event. See one of our TNT team members for details. It's never too early to Christmas shop. Layaway today!