HERDEZ JEWELRY & PAWN, PHOENIX
Not just Pawnbrokers we are your friends
"The guys here are so incredibly nice and honest it's mind-blowing. It is the only place I would go, every other pawn shop in the area treats you like a druggie low balling you, but these guys are fair and even generous. Thanks guys you helped me out of financial jams more than I care to admit, much love and respect. And hey, hope you leg heals up soon big man."
Daniel Rizzi
Herdez Jewelry and Pawn joined the TNT Pawn family in 2020. Herdez Pawn has been a household name in the Phoenix area for over 15 years.  A multi-generation family-owned and operated business, Herdez has been serving the community with  a personal touch. The same family owned and operated feel customers have grown to love about Herdez is still alive and well. Herdez specializes in custom jewelry pieces, having an onsite jeweler who can create a masterpiece just for you! Staff are fluent in Spanish also.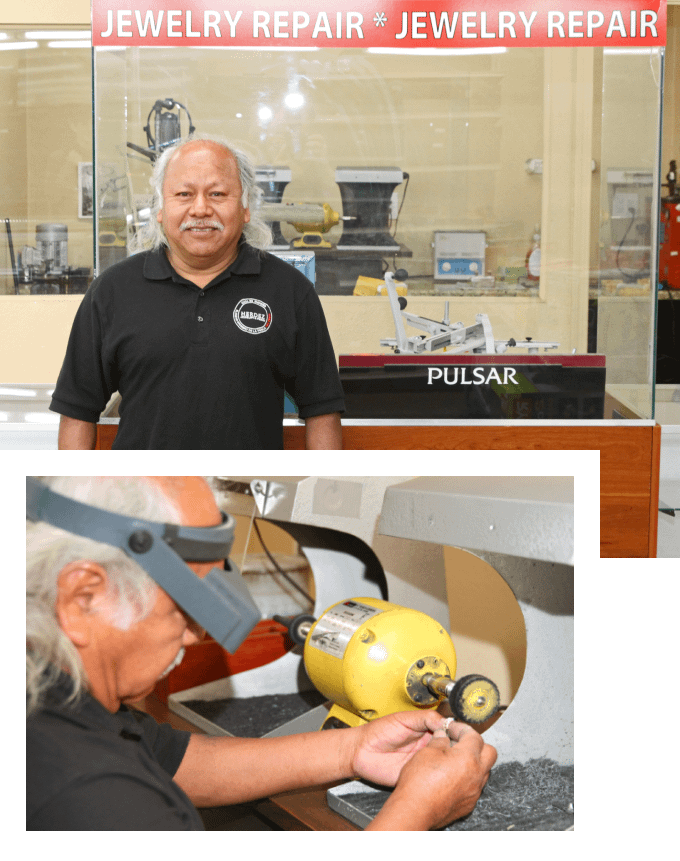 Meet Mr. Miyagi, the Jeweler at Herdez Jewelry and Pawn, Phoenix, Arizona
Mr. Miyagi has been creating custom jewelry masterpieces for over 40 years. Born in a small town outside of Mexico City, Mr. Miyagi's uncle introduced him to jewelry making when he was a kid. As Mr. Miyagi grew, so did his passion, creativity, and a keen eye for detail. He loves taking customers' initial thoughts of how they would like a piece to be created, then expanding those ideas into the finished product. Mr. Miyagi enjoys creating Native American handmade pieces as they require patience, skill, and attention to detail. He enjoys creating one-of-a-kind pieces; not one piece he has created stands out because every piece is unique, just like his customers.
When Mir. Miyagi is not hard at work taking a concept and expanding it to a finished custom jewelry piece; he enjoys spending time with his wife, children, and grandkids! You can catch him on the beach, relaxing and watching the tide come in and out, or participating in an adult soccer league.
Stop by Herdez Jewelry and Pawn and meet Mr. Miyagi, a down-to-earth, humble, funny guy who will individually design, craft, and hand tool your custom piece!